Lesson Horses
Buddy
Ollie
Speckles
Quaffer
Star
Leo
Torcato vom Castell





Brier Bank Farm Horses
---
Buddy, a 14 year old pony. He is a spunky little pony that loves to teach his riders how to work!
Oliver Twist, aka "Ollie", 15 year old Piebald Paint gelding. He is taking good care of our beginner students. If you see him in the barn, he welcomes any treats you might have!
Speckles, a 15 year old Appoloosa Gelding. He is one of our school horses for intermidiate students. He loves treats and jumping over.
Quaffer, an 13 year old Thoroughbred gelding. Quaffer handles many of the advanced students and he likes to jump!
Da Vinci (aka Leo). 8 year old Hanovarian cross by Domino (DeNiro-bloodlines from Weltmeyer and Donnerhall).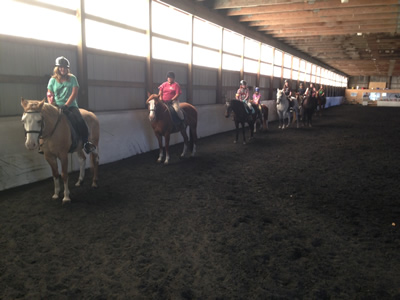 Many of our lesson horses are ridden in drill team, pictured at left. The horses are (from front to back): Ollie, Star, Tarryn, Buddy, Leo, Daniel, Cricket, and Quaffer.